KCTV5 interviewed Lisa Ousley, Executive Director of After the Harvest, in this October 9, 2014 news report. 
---
Posted: Oct 09, 2014 8:51 PM CDT | Updated: Oct 09, 2014 9:28 PM CDT
By Dave Eckert, Assignment Editor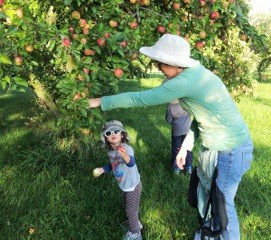 KANSAS CITY, MO (KCTV) – 
The goal is "Healthy Food for Hungry People," and the not-for-profit group, After the Harvest, has provided a whole lot of the former, which has helped a whole lot of the latter.After the Harvest began its operations on May 18, 2014. The amount of good the group has done in that time, if measured only by weight, is amazing."Since opening our doors, we have provided more than 600,000 pounds of fresh fruits and vegetables to Harvesters-The Community Food Network, and many area feeding agencies. We do this through two programs: Our Gleaning Network and our Produce Procurement Program," Lisa Ousley, After the Harvest's Executive Director shared.Before its May debut, the group worked for a national hunger-relief organization called the Society of St. Andrew. Ousley said she opened the group's office in Kansas City focusing on western states in 2008. In the years after, Ousley said they moved more than 15-million pounds of fresh produce to feed hungry people. Still, there was a feeling more could be done.
"We had grown to believe that a locally based hunger-relief operation would work better in Kansas City. So, a subset of the Society of St. Andrew Advisory Board formed a board of directors for After the Harvest. We are the same people with the same mission as before: saving fresh produce from being wasted, and providing it to agencies that feed people who are struggling to feed their families," Ousley said.
It sounds simple, and in a way, it is. Still, consider the logistics, which are anything but simple.
"Through our Gleaning Network, we engage thousands of volunteers each year to glean with us. We partner with more than 100-area farmers and grower to glean their fields and orchards after they have harvested their crops," Ousley shared
The Merriam-Webster definition of glean is, "to gather grain or other produce left by reapers." In other words, crops left un-harvested and unused for any number of reasons.
"When a farmer calls and tells us, for example, that he's ready for us to glean his sweet corn fields, we meet our volunteers at his fields and simply pick the second and third ears of corn. Did you know that each corn stalk has two to three ears, but only the top ear is picked for commercial sale? The second and third ears are smaller and are usually left in the field to rot or picked up and used as animal feed.," Ousley said.
Ousley and her volunteers bag up the corn and deliver it to food pantries throughout the metro. That, Ousley said, gives people who can't afford to buy fresh fruits and vegetables the chance to put items like fresh sweet corn on their dinner tables.
"Our Gleaning Network is an important part of our work because it is our face in the community. Gleaning is our community service opportunity, our volunteer opportunity, if you will. It helps folks in the general public understand and support what we do,"Ousley stated.
Equally important is the group's produce procurement program, which Ousley described as their "large loads" program, one which will move more than a million pounds of produce this year.
"Under this program, we partner with commercial growers across the country to get whole truckloads of donated produce, which we bring to primarily to Harvesters, but also, to other food banks in Missouri and Kansas. Recently, Ousley said After the Harvest brought a truckload of white potatoes and a truckload of sweet potatoes (about (43,000 pounds each) to Harvesters on a Friday, and a truckload of red potatoes on the following Monday.
"It was nearly 130,000 pounds of fresh food that Harvesters will distribute throughout its 26-county area in the next couple of weeks," Ousley stated.
Ousley said After the Harvest finds its farms by word of mouth, but also attends growers' conferences every year, connecting with many growers through those gatherings. "Then, there are always the farmers' markets and our partner farmers introducing us to their friends in the industry," Ousley said.
It all fits together like some giant fresh produce jigsaw puzzle. Ousley said the work she and After the Harvest does means a lot to her, personally and professionally.
"I have long had a passion for hunger-relief. I volunteered for many years, while working professionally in marketing, community affairs, and community relations. This work draws on both my passion and experience. It's good to be able to help people with such a critical need," Ousley stated.
"Some 53 percent of fresh produce grown in this country never reaches a human consumer. That's just plain wrong. In this country, a green pepper that has two bumps on the bottom, as opposed to three or four, is rejected. It's the same with ears two and three on a corn stalk. Cucumbers and zucchini that are eight inches long–rejected. It's a crime. This is perfectly good food. We have more than 46-million Americans at risk of hunger, including one out of every five children." Ousley continued.
Since May, After the Harvest has had many gleaning opportunities and several hundred volunteers. Ousley said they always need more, and there are several gleaning opportunities coming up.
"People can sign up to volunteer on our website, www.aftertheharvestkc.org. Volunteers don't need any experience in order to glean. Each gleaning lasts between two and three and a half hours. Gleaning is simple. It's as simple as stooping to pick up an apple off the ground," Ousley said.
Simple. Complex. Important. Three words that provide a pretty good description of the work Lisa Ousley and After the Harvest-Healthy Food for Hungry People.
Copyright 2014 KCTV (Meredith Corp.) All rights reserved.